Are we the official seller?
Yes, we are an officially authorized seller to resolve any technical issue with your SuperBox, including remote technical support, replacement, and warranty.
We are only responsible for our website's orders because we receive mass messages from our customers daily. We take care of our customers to provide our customers with the best service and exclusive offers.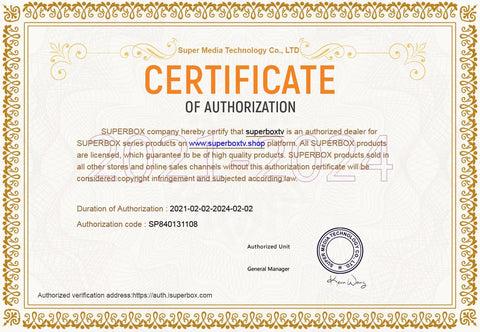 With respect, we do not interfere the claims outside our website. We only take care of the order fulfilled from our website: superboxtv.shop
When some people report that they purchase from others, and their boxes are unlicensed or prohibited. Some of them even lost contact with the dealer.  Please be aware of who you buy from. 
Products FAQs:
What is Superbox? 
Superbox is an android  box for home streaming entertainment. The latest SuperBox S2 Pro has 2GB of RAM and 16GB of storage, utilizes a quad-core ARM Cortex-A53 processor, supports Android 9.0 Pie and 2T2R dual-band WiFi. By simply connecting to your TV and the internet, you're free to enjoy the smoothest home theater experience.
What channels can you enjoy? 
We updated our channels list on December 09 th, 2021. Please check here. If you browse with a desktop, press ctrl+ f, and you will able to find your channels.
Can you use the  service without the box? 
No, because the Superbox has unique hardware that makes the service runs smoothly and free of charge. 
Does it require connecting WiFi?
To ensure HD streaming smoothly, we recommend that the TV box stays close to the WiFi router, with at least 25 -100 Mbps internet speed.
How many TVs can access the same box at the same time?
One TV accesses One box. Currently, the Multi-screen feature is unavailable. However, our developers are doing their best to see if we can get a suitable partner for this feature to use our services.
Do you need a smart tv?
You don't need a smart tv. All you need is a TV with AV or HDMI input and an internet connection.
What is the range distance from the box for optimum viewing on a TV?
The box requires HDMI ( include in the package) to connect with the TV. The closer, the better
Do we offer trading up or upgrade from S2 to the S3?
We currently don't offer any trading up or upgrade. Because the main difference between S3 and S2 is the voice control. 
SuperBox is a legal android device. We provide hardware. It is up to customers' choices to install Apps.
Is legal?
Watching movies, TV shows, and sports events won't violate U.S.& Canada Copyright law. 
You won't encounter a law issue unless uploading, downloading, or broadcasting content to a large group.
What is our warranty policy? 
Superbox warranty period lasts one year. If there are any problems with your SuperBox android tv box, please contact our customer service. First, to save your time, our technical support will do the best to help you to solve the problem. For the worse case, if your hardware gets into trouble and you won't fix it, you can send the product to us, and we will repair it for free within one year. If your warranty period gets expired, you can still send the device to us for repair at a separate cost. You're still able to enjoy the service once the device is recovered. During the time of repair, we'll offer an account to maintain your service.
Setup & Using
How to set up after receiving Superbox? 
We've created many tutorials about how to set up and tutorials of superbox, To set up your superbox, please check our blog page:
https://superboxtv.shop/blogs/news/how-to-set-up-superbox-s3-pro
https://www.superboxtv.shop/pages/superbox-s2-pro-setup

or our Youtube:
Superbox S3 Pro: https://www.youtube.com/watch?v=IkuMzC8YCak
Supebox S2 Pro
https://www.youtube.com/watch?v=U7WQGpLPrqI&t
How do you change the time zone on the box? How to get the Superbox to display the correct time?
Please go through the Settings (Gear Icon) from the home page. It's under Device Preferences on the Settings. The date and time setting option should be there. Please make sure that the correct time zone is selected
How to add your favorite channels?
If you want to add a favorite channel, go to the Live Channels and press the "OK" button on the remote to show the channels on the left side. From there, you can select a channel, then press and hold the "OK" button for a few seconds until the star gets highlighted. It then gets added in the favorites section. 
For full functionalities of the Live TV section and other apps on S2 Pro, please watch this video for visual instructions: https://www.youtube.com/watch?v=6pruPI2N2PI&t.
What does it mean when it says device prohibits ( 202 ) that's on the screen?
Device prohibition doesn't happen on our devices. With respect, we don't interfere other retailers. You need to contact the seller when you are getting an error of device prohibition.
We are only responsible for the orders achieved from our website.
If you order from our site, please send us your name or order number and MAC. We will help you resolve this. 
How to fix google error code 403?
We suggest you install the Aptoide app from the APP store. Please also check our youtube channel tutorial. It might get your problem fix.
How to fix error code1004 on Superbox?
For Token 1004, the tech suggest that you have to restart your network
Can you play App Games on this TV box?
Yes, but we don't recommend playing big RAM games that let the TV box overheat. The primary purpose of this TV box is for entertainment streaming. If you would enjoy gaming, we recommend NVIDIA SHIELD TV Pro.
You can see the channel and show listing but the channels are all black screens, nothing loads?
You may reboot your SuperBOX and router. Then try to forget the network and then connect again to your Wifi network.
Can you install netflix on superbox?
Yes, you can. You may need to go to the App Store to see if it's listed on the pre-installed apps and download from there. Otherwise, you may need to use Google Play Store. Also, you may use Aptoide TV for downloading (downloader from the App Store). We need to set an expectation that not all apps will work with SuperBOX. You are welcome to download any apps or services. However, there's no assurance that every single app would work perfectly or work at all.
Orders & cancellations 
How to place an order?
Once you have finished adding items to your cart, click the "check out" button on the shopping bag page, and we will guide you through the checkout process.
Which methods of payment do you accept?
We currently accept PayPal. Upon receiving your order, we carry out a standard pre-authorization check on your payment card to ensure there are sufficient funds to fulfill the transaction. The pre-authorization is completed once the order has been packed and is ready to be shipped. Suppose the billing or shipping information is incorrect or incomplete. In that case, we will contact you to confirm them before your order is shipped.
Can you pay with a credit card?
We haven't opened the payment gateway for a credit card yet. Paypal is the securest payment method for customers with buyer protection so far.
However, would you mind connecting your credit card to Paypal? It only takes 2 mins to set up. Guide Here
How safe is my personal information?
Our site uses a secure sockets layer (SSL) protocol to encrypt all personal information sent during the checkout process. We do not store any of your payment information.
Can I change or cancel my order?
We start working on your order as soon as you submit it. Therefore it's improbable that we can change or cancel it. If your order in the last 24 hours ago, please contact us, and we will do our best to make it happen.
Why am I receiving an error message while trying to checkout?
Shipping Time
PROCESSING TIME
Please allow our staff to have 1-2 business days (excluding Saturdays, Sundays, and Holidays) to process.
SHIPPING RATES & TIMELINES
All orders in Canada will ship from our fulfillment center near Hong Kong International Airport. The estimated shipping period to Canada via DHL Express is 3-7 business days.
All orders in the U.S. will ship from our fulfillment center in CA 91710. The estimated shipping period is 1-5 business days via UPS.
Product: Superbox S3 Pro, Superbox S2 Pro, Collections
If you are receiving an error message while attempting to checkout, please contact us at support@superboxtv.shop.